There are some who believe that they are guided, supported and comforted by forces, seen and unseen. Sometimes those forces are in the form of an animal and that animal means something significant. Other times, we are simply drawn to a certain animal.
In 2015, through the collaboration with sculpture, Anthony Heyl the Horse ToTem came to be. Horse reminds us to move forward, embracing our strength & power.
.
.
.
.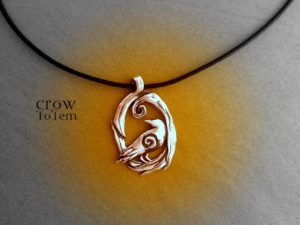 In 2016 I woke up, sketched out a crow on an oval branch and the Crow ToTem followed.  Crow is a confident reminder to fearlessly speak our truth and embrace our mission.
.
.
.
.
.
For 2017 I bent, hammered and formed a symbol of Rebellion as requested by a client. The 'uasi' necklace is a limited edition piece. There will only be a few cast. You can order yours now by emailing or calling, see below.
The solid sterling design is available with sterling or 14k yellow gold wrapped at the bottom. (The image to the left has black marks showing the location.) From top to bottom the design is approximately 1″ across and 2″ long on a 36″ sterling silver chain.
Uasi with sterling wire wrap $440.
Uasi with 14k yellow gold wrap $720.
amy@amyragsdale.com
215-542-7570
Thank You.